I think many people don't realize this including myself but everything starts from somewhere.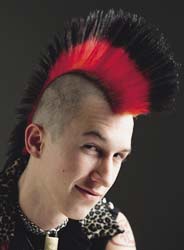 An individual
Dell started from a dorm room with Michael Dell wanting more from computers.
IBM was created by Thomas Watson wanting to make calculating more easily.
Google was started after two Phd students want a better ranking of information.
Hewlett-Packard got its life in a garage in Palo Alto by two more Stanford kids.
Starbucks was founded after Alfred Peet taught some people the true essence of coffee beans.
Krispy Kreme got its plumpness after Vernon Rudolph wanted a better donut.
In-n-Out created its delightful food in Southern California by the Snyders.
Amazon was started in New York when Jeff Bezos realized a great opportunity.
Notice a pattern. Large companies start somewhere. Large companies start at 1 person. I think as these companies grow most people think they were born large. Have you ever seen a 16-year-old baby come out of a woman? I hope not!
Bottomline: The point here is that everything starts somewhere.